1. Project Overview:
The dimension of one greenhouse for the flowering stage is 9.6m x 20m x 6m where there are 4.2m x 1.6m moving tables. Totally, there are 9 greenhouses like this in stage 1. We did a lighting simulation for one of the greenhouses in the 48th construction area. As we can see from the photos right, we assume there is a path in the middle for workers to operate. Our lighting plan will focus on the left and right sides. In general, the lighting solution can meet 1500μmol/s/m² PPFD with sunlight included, 800μmol/s/m² by artificial lighting.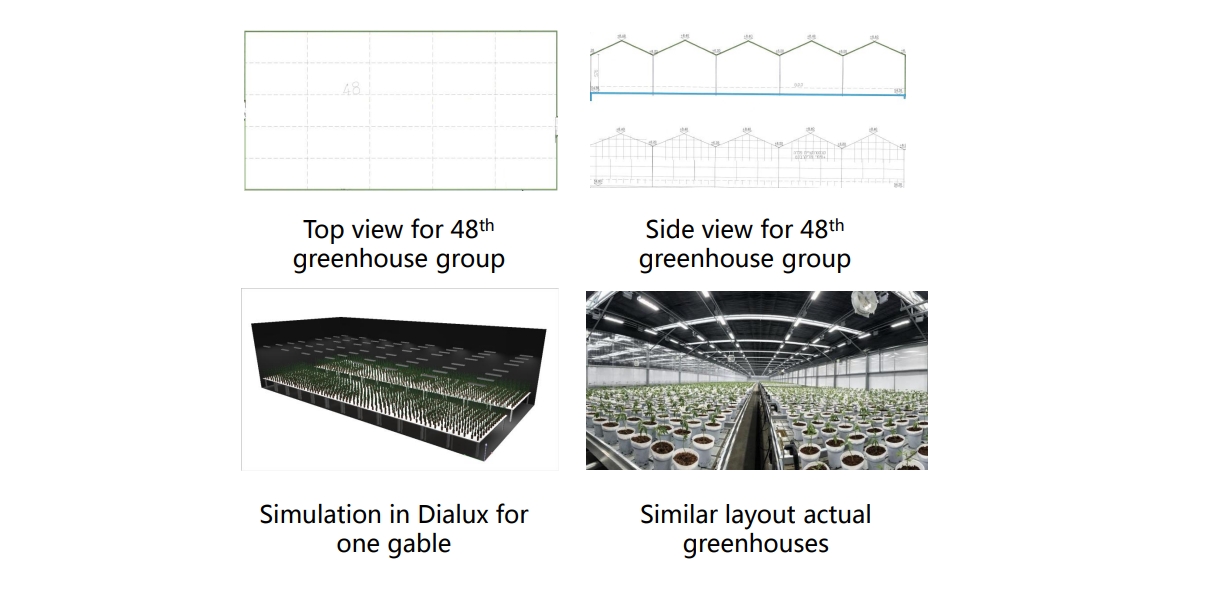 2. Light Fixture proposal: Solify Pro (LL351-0008)
We suggest using Solify Pro grow lights (LL351-0008) for this project. IP66, 630W, 850mm in length, Efficiency 2.4 μmol/J, Full spectrum, Samsung + Osram LED chips, External Inventronics driver, 0-10V dimming, 120-240V AC This full-spectrum is suitable for both vegetative stage and flowering stage of medical cannabis cultivation.
3. Average PPFD and Installation Height Recommended:
For one 9.6mx20m greenhouse, we suggest installing 8 rows of lights which will be divided into 2 parts ( left and right), 15pcs per row. Totally it needs 120 pcs lights for such a greenhouse. The distance from LED lights to the plants canopy should be 2m. The average PPFD at a 2m distance is about 750μmol/s/m², but it will increase with the growth of plants.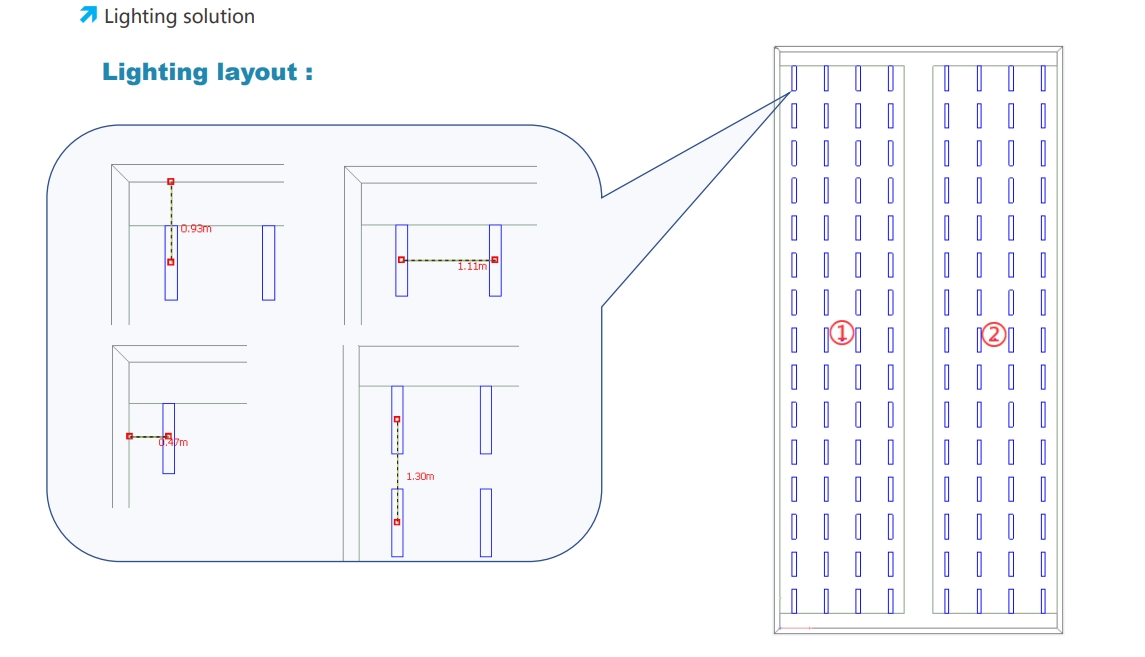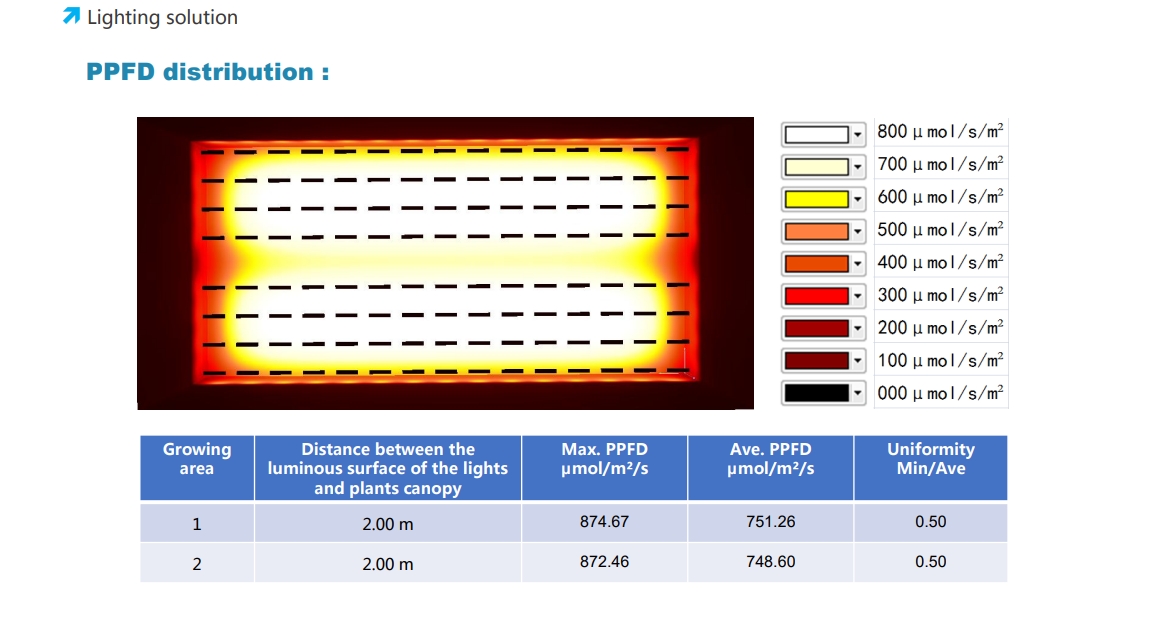 4. Installation Guide Option 1: Standard Accessories
The installation guide here is with standard accessories like power cables, dimming cables, and hooks +adjustable ropes. You can use ropes or not, with ropes, the height can be adjusted, without ropes, the installation process will be easier.
In this solution, we recommend using 1 power cable and 1 dimming cable per light. We are able to customize interconnection cables if you want to connect lights together for easier operation.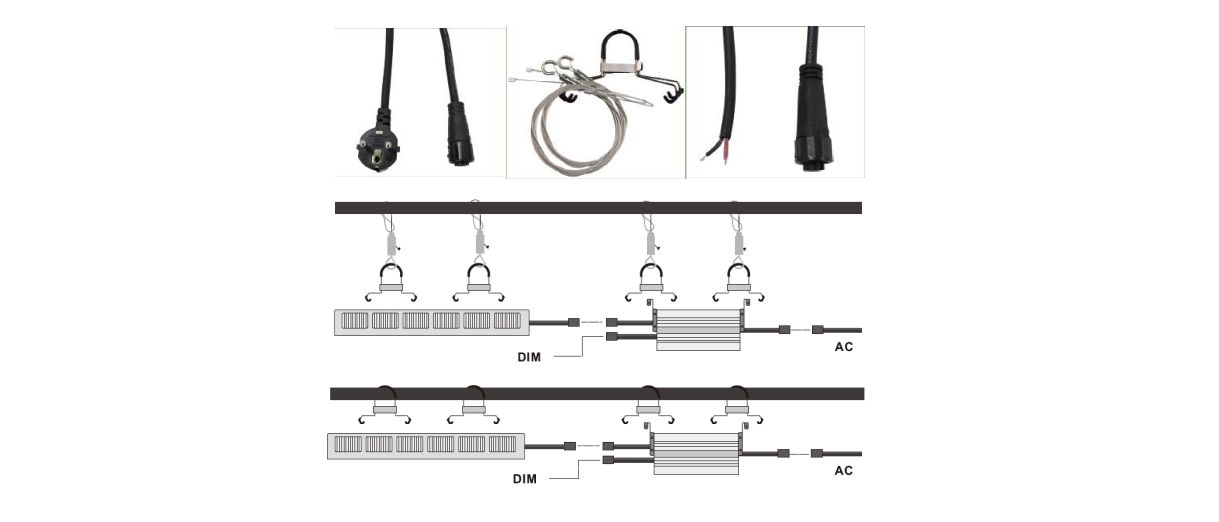 5. Installation Advice Option 2 (Interconnection Cables) :
For easy operation and using sockets as less as possible. The max. connection qty of 351-0008 at 220VAC is 5pcs, it demands 1 sub-5 power interconnection cable and 1 sub-5 dimming interconnection cable.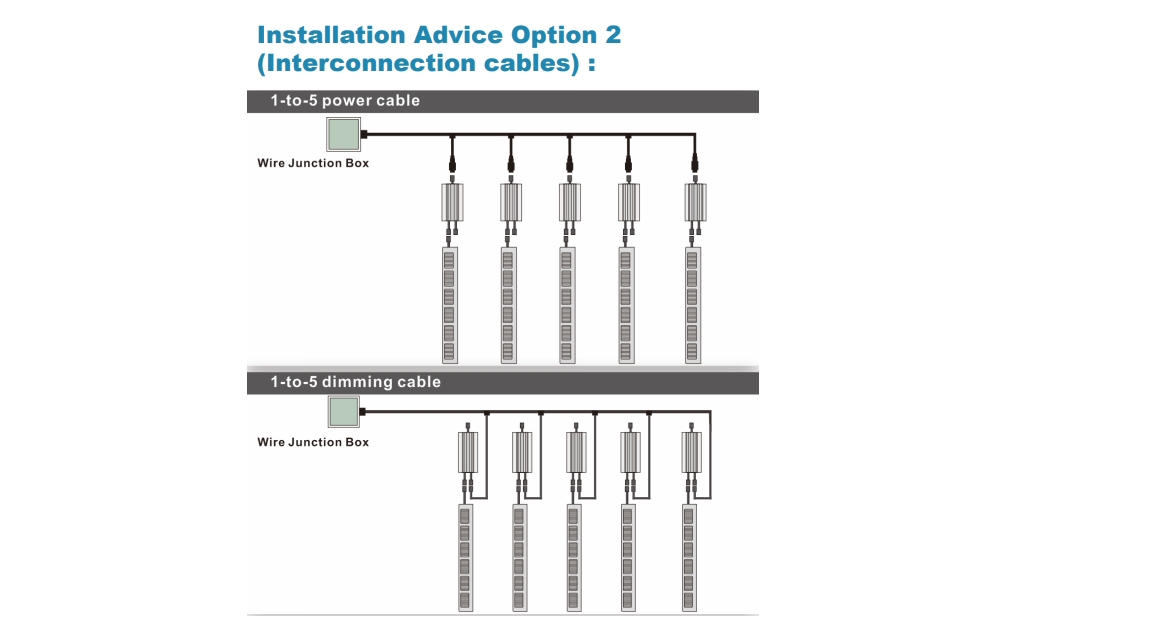 6. Have Question:
If you are not sure which type led grow lights can fulfill your requirements, please feel free to contact us directly, will get in touch within 24hours.